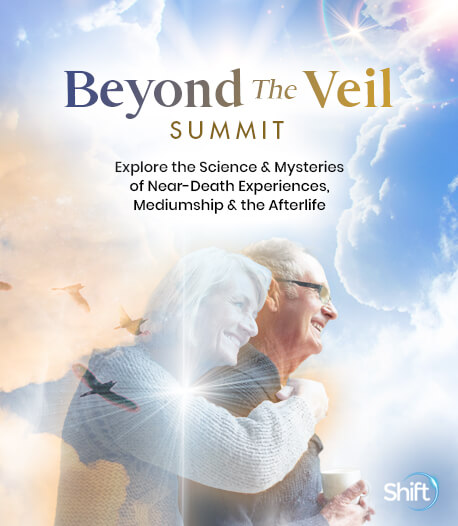 Program & Replays
How Near-Death and Shared-Death Experiences Influence Our Life Experience
Broadcast on October 31, 2022
With Jeff O'Driscoll, MD & Jeffery C. Olsen
Hosted by William Peters, MA
Choosing joy after a tragic loss is challenging. Near-death and shared-death experiences (NDEs and SDEs) assist us in seeing life and relationships from a higher perspective. Trusted friends are also key to our health and happiness. Jeffery C. Olsen and Dr. Jeff O'Driscoll will discuss what happens during near-death and shared-death experiences, and how they have influenced the lives of those who have subsequently lived to tell the tale. These experiences are profound, but the most important key for people who have "died" is how to navigate life once they return from beyond the veil.
In this session, you'll discover:
What happens to a patient in the ER, and also to a stable patient who is near death
What we can learn from these experiences
How we can apply these learnings in our everyday lives
The opinions expressed here are those of the author/presenter and are not representative of Shift Network employees, customers, or other presenters.
Love this Speaker and What They Have to Say?
It can be yours to keep... forever.
Get lifetime access to the summit and bonus material by upgrading now!
UPGRADE HERE
Jeff O'Driscoll, MD
Emergency Physician, Transformational Speaker, Award-winning Author
During his 25 years as an academically oriented emergency physician, Dr. Jeff O'Driscoll experienced phenomena that science couldn't explain, such as seeing souls leave their bodies at death, and communicating with them. His experiences began in childhood, after his brother died in a farm accident. After stepping away from clinical medicine, Jeff published his award-winning memoir, Not Yet. Now, as an international speaker and intuitive mentor, he connects souls to their highest selves and their most authentic life paths.
Jeff received his M.D. from the University of Utah School of Medicine. He is board certified in internal medicine and is a fellow of the American College of Emergency Physicians. He practiced emergency medicine at a level-one trauma center, teaching students and residents, for 25 years, and served as chairman of the department for eight years, receiving awards and publishing articles for service quality in the emergency department.
In addition to his memoir, Jeff's published a novel called Who Buried Achilles?, several articles on various subjects, and a series of six children's books. 
Jeffery C. Olsen
Best-Selling Author, Speaker, Spiritual Leader, Husband, Father, Friend
Jefferey C. Olsen is an internationally acclaimed best-selling author who inspires audiences globally with his intriguing story of perseverance and inner strength. After a horrific automobile accident took the lives of his wife and youngest son, also inflicting multiple life-threatening injuries to Jeff (including the amputation of his left leg) he found the courage to survive over 18 surgeries and eventually heal both physically and emotionally. At the time of his accident, he had incredible out-of-body and near-death experiences, bringing him insights not common in today's world. Jeff has integrated these experiences into everyday life, inspiring others to embrace the beauty around them and choose joy in all they do.  
His latest book, Where Are You? is a collaboration with his oldest son Spencer, who also survived the accident at the age of seven. They have captured their healing journey in a simple yet powerful way, as told from the innocent perspective of that child. "Where Are You?" is a heartfelt book for all ages, and perfect for anybody who misses someone.