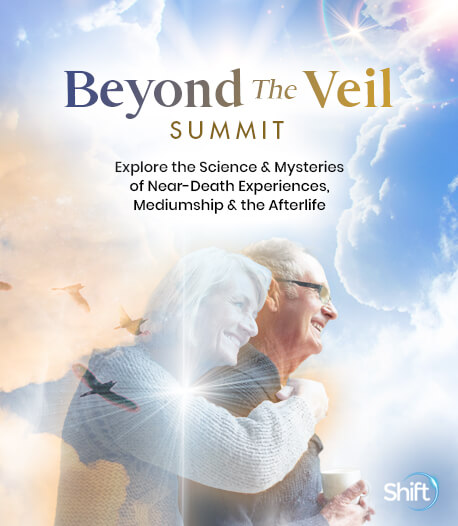 Program & Replays
Lift Your Energy Particle Vibrations: Heighten Your Natural Multi-Sensory Abilities
Broadcast on November 02, 2022
With Marie Manuchehri
Hosted by Lisa Bonnice
Join Marie Manuchehri, RN, as she discusses how learning to manage a high-frequency energy pattern in your own human energy system is key to the evolution of the human species. Increasing the vibration of your particle mass can occur through feeling happiness, or by listening to high-frequency noise — like toning, or by focusing your human senses on pleasing color, light, or those surprising goosebump feelings.
In this session, you'll discover:
Your friends and family members on the other side do not see life, love, joy, or any human condition in the same way they did while they were living on earth
Your loved ones do not want to spend a lot of time communicating to you about the fact that they still live and they would much prefer to share with you their new consciousness
It is beyond time for humanity to believe that everything is energy, that nothing dies, and that each of us has the ability to shift our energy and create our worth
The opinions expressed here are those of the author/presenter and are not representative of Shift Network employees, customers, or other presenters.
Love this Speaker and What They Have to Say?
It can be yours to keep... forever.
Get lifetime access to the summit and bonus material by upgrading now!
UPGRADE HERE
Marie Manuchehri
Energy Intuitive and Medium
Marie Manuchehri, a powerful intuitive, healer, and medium, began her psychic career while working as an oncology nurse in a Seattle area hospital. Her unique perceptions have inspired others to create healthier bodies and relationships, and achieve financial desires. Marie is a deep believer in manifesting one's aspirations, including the desire to know information beyond the physical reality.
Marie works with spirit and departed loved ones on the other side. She's devoted to teaching people about the real, positive impact their own psychic abilities can have on transforming their lives and their psychology. She teaches many courses focused on intuition, excels in direct intuitive communication, and can accurately read any area of a person's life.
In her private practice, Marie provides clients around the world with insights into their health issues. She has a weekly radio show, Where Energy and Medicine Meet, is the author of Intuitive Self-Healing, and has produced a CD series called How to Communicate with Your Spirit Guides.