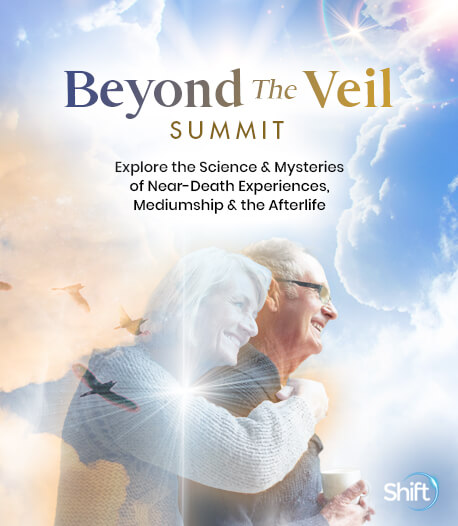 Program & Replays
Discerning Everyday Messages From Beyond the Veil and How We Carry Their Voices, Love, and Life Stories
Broadcast on October 31, 2022
With Ericka Boussarhane
Hosted by Lisa Bonnice
Psychic medium and kidney-transplant recipient Ericka Boussarhane discusses a compelling exploration of mortality, the afterlife, grief, synchronicity, and beyond-the-grave communication. She examines how our deceased loved ones are often present, but they are invisible like love and faith.
In this session, you'll discover:
Ways to understand after-death communication so your loved ones don't die but are present even when you can't see, hear, touch, smell, or feel them
How cold cases can sometimes be assisted by psychic mediums
How communication between organ donors and recipients can occur
The opinions expressed here are those of the author/presenter and are not representative of Shift Network employees, customers, or other presenters.
Love this Speaker and What They Have to Say?
It can be yours to keep... forever.
Get lifetime access to the summit and bonus material by upgrading now!
UPGRADE HERE
Ericka Boussarhane
Psychic Medium, Spiritual Teacher, Author, Lecturer, Founder of Second Sight TV
International psychic medium Ericka Boussarhhane, a.k.a. the "Psychic Diva", is an author, radio personality, speaker, film producer, event planner, philanthropist, and serial entrepreneur. She has become the go-to for even her peers for her accurate, empowering sessions, and Ericka has amassed a global following of people from all walks of life. She is a deceased kidney organ transplant recipient, an interesting fact given her talents.
Ericka has been featured on national radio stations across the globe, including CBS Radio, Coast to Coast AM, I Heart Media, Cumulus, and Clear Channel.  She is the resident psychic for the nationally syndicated 'Lex and Terry' morning radio show. Her psychic abilities have been profiled on national TV shows such as Discovery Channel's 'Forbidden: Dying for Love', Syfy's 'Ghost Hunters', Second Sight Paranormal TV, and more. She is a member of the Escambia County Search and Rescue and her work has extended to groups such as the Find Me 2 Group.
Ericka appears on Second Sight TV with her team Second Sight Paranormal and Forensic Services. The team explores hauntings, urban legends, unsolved mysteries, true crime, and paranormal activity across the country. Ericka is also the owner of Pensacola History & Hauntings, where she offers paranormal investigations, ghost tours, and spooky events. She is also the founder of one of the first African American female-owned comic conventions in the U.S., the Pensacola Comic Convention.
She is a successful filmmaker and director whose creative films and documentaries have won awards at film festivals worldwide. Her work has been featured on major streaming services such as Amazon Prime Video, Tubi, Play Now Media, Reveel, Mometu, Box Brazil Play, Apple, Vimeo, BingeHorror, Paraflixx, and others. She is featured in several publications including Natural Awakenings, Oracle 20/20, and Newsweek.
She is particularly proud of her documentary 'Beyond The Grave: Unforgotten Voices', which features powerful stories told by those who have experienced the loss of a loved one. Although those voices are no longer in this realm, they can be manifested by those who knew them the best, as demonstrated in the film. Ericka has written books and meditations, such as 'Sam and the Boogie Man, 'Relationship Rehab: Releasing Past Relationships, Healing, and Attracting Prosperity and Healthy Relationships', 'Connect with Spirit, Chakra Cleanse, And Psychic Development, and more.
Ericka is globally recognized as a trailblazer, encourager, and motivator for people everywhere, providing poignant insight to empower others.