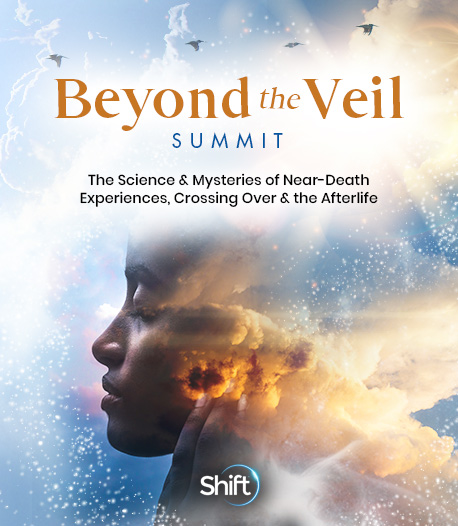 Program & Replays

The Afterlife Frequency
Broadcast on October 13, 2021
With Mark Anthony, JD
Hosted by Lisa Bonnice
Mark Anthony, JD, reveals how human beings engage in spirit communication, whether through a medium, near-death experience (NDE), deathbed vision, or visitation from spirits of loved ones. Often dismissed as fantasy, these phenomena are very real. The afterlife frequency presents scientific proof that spirit communication isn't paranormal or supernatural, but a normal part of human nature and a powerful instrument of healing and love.
In this session, you'll discover:
How our "electromagnetic soul" is pure eternal energy which never dies
How to view spirit communication, NDEs, and deathbed visions through a 21st-century science lens
The RAFT technique — Recognize contact with spirits, Accept it as real, Feel it without fear, and Trust in the experience
The opinions expressed here are those of the author/presenter and are not representative of Shift Network employees, customers, or other presenters.
Love this Speaker and What They Have to Say?
It can be yours to keep... forever.
Get lifetime access to the summit and bonus material by upgrading now!
UPGRADE HERE
Mark Anthony, JD
Mark Anthony, JD Psychic Explorer (aka The Psychic Lawyer®)
Mark Anthony, JD, Psychic Explorer® (aka The Psychic Lawyer), is author of The Afterlife Frequency. His other spiritual bestsellers are Evidence of Eternity and Never Letting Go. He's a columnist at Best Holistic Life magazine, and co-host of the hit livestream show The Psychic and The Doc on Transformation Network. Mark Anthony's credentials and experience are unparalleled in the paranormal world. He's an Oxford educated trial attorney licensed to practice law in Florida, Washington DC, and before the United States Supreme Court. In England, he studied mediumship at prestigious Arthur Findlay College for the Advancement of Psychic Science. As a charismatic, intelligent, humorous, and accomplished public speaker, Mark headlines at conventions, expos and spiritual organizations such as the Edgar Cayce ARE, IANDS (International Association for Near-Death Studies), Afterlife Research Education Institute(AREI), Sedona Spirit Symposium, Vail Symposium and universities including Brown, Columbia, Harvard, and Yale.
Dr. Gary Schwartz, professor of psychology, medicine, neurology, psychiatry, and surgery at University of Arizona, and director of the laboratory for advances in consciousness and health, has ranked Mark as one of the top mediums in the United States. Mark Anthony is the media's "go-to-guy" when the paranormal and legal system collide. He appears regularly on television as a legal analyst, psychic medium and expert on the paranormal, after-death communication and near-death experiences. He appeared on CBS TV's Emmy award winning show The Doctors, where he performed a reading for a family in a brutal cold case. Information provided during the reading led to the murderer's arrest (now in custody awaiting trial). Mark Anthony has a reputation as the "Psychic Indiana Jones."
In addition to his expertise as an attorney, he has an extensive background in science, quantum physics, survival of consciousness and near-death experiences, history, archaeology, philosophy and theology. One day Mark is lecturing at an ivy league university about quantum physics, and the next he's off to mystical locations in remote corners of the world exploring ancient ruins and supernatural phenomena. Mark is a recurring guest on ABC, CBS, NBC, FOX television and on major talk radio shows such as Coast to Coast AM, Darkness Radio, Shirley MacLaine's Independent Expression and Sirius XM. Mark has also been featured in several publications including The Hollywood Times, Huffington Post, The New York Post, Publisher's Weekly, LifeStyle, Horizons, The Inquisitr, Staten Island Today, Sedona Red Rock News, Naples Daily News, OM Times, Elite Man, Natural Awakenings, Infinity (Canada) and Spirituality Today (UK).