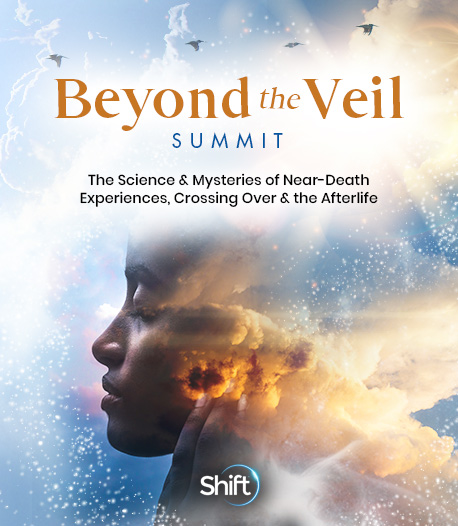 Program & Replays

Welcome Message From Your Summit Host
With Lisa Bonnice
Welcome to the Beyond the Veil Summit series. I'm Lisa Bonnice, your host, and I'm so glad you've decided to join us, because there's a lot of great information just waiting for you to tap into.

We'll talk to some of The Shift Network's favorite experts and introduce you to some new names and faces, all of whom offer their expertise and words of wisdom on the topic of the nature of the veil between the worlds, helping us to explore ways to comprehend some of the greatest mysteries facing humankind.
The good news is that this series contains new and powerful information to help anyone who tunes in. Personally, as a result of hosting this series and participating in these conversations, I've learned some life-changing information that has literally led me to some of the answers I've been so desperately seeking.
You'll hear from evidential mediums like Suzanne Giesemann, Bill Philipps, Marie Manuchehri, Vincent Genna, and Amelia Vogler, who grew up in a funeral home with a natural ability to tune in to messages from her father's clientele.
There's plenty of science here, as well, including Dr. Mark Pitstick, director of the SoulPhone Foundation at the University of Arizona at Tucson... Mark Anthony, author of the new book The Afterlife Frequency... and Dr. Helane Wahbeh (helLENay WAHbay), from the Institute of Noetic Science, author of The Science of Channeling.
We'll also talk about near-death experiences with Dr. Raymond Moody, who shares stories he's gathered about the nature of God... Francisco Valentin, author of The Transcripts, who shares an exquisite story of his journey to the furthest edes of comprehensible reality... and William Peters, author of At Heaven's Door, who joins us to talk about shared-death experiences, wherein people report crossing the veil with their loved ones who are actively dying, and experiencing the full expansion of consciousness in the Light before being sent back to the physical world because it's not their time yet.
Being immersed in the conversations in this series is genuinely life-changing. In fact, I even share an extremely personal story or two about healing experiences I had as a result of working with some of the series guests. Even if you know a thing or two about the "veil" and how to communicate with folks on the "other side," there's always more to learn, and more stories to hear, more mysteries to solve.
So, if you don't know where to begin, or if you have a fear of death that you can't get past, or you want to tap into the vast resources of wisdom that's just waiting for you to find your way, this series is for you.
I'm so looking forward to sharing these conversations with you.
See you there.
Lisa Bonnice
Program Host at The Shift Network and Award-Winning Author
Lisa Bonnice is an award-winning writer and humorist. She received two excellence awards from MSNBC.com during her tenure there as a news writer/associate producer. She also traveled the country as a stand-up comedienne, working with the likes of Tim Allen and Steve Harvey.
She has hosted numerous summits for The Shift Network, including the Ancestral Healing Summit, Beyond the Veil Summit, and Intuitive Medicine Summit. Lisa also co-created the "Generations Oracle" kit with Carrie Paris. 
Her first book, Shape Shifting: The Body/Mind/Spirit Weight Solution, includes a foreword by Neale Donald Walsch, with whom she worked within the organization he founded, Humanity's Team, as regional director for the entire southern portion of the United States. Her true crime novel, Fear of Our Father, was twice featured on the Investigation Discovery network. Her newest novel, a metaphysical comedy called The Poppet Master, includes a foreword by Marc Allen, publisher at New World Library (and the man who discovered Eckhart Tolle).
Lisa hosted her own podcast, Shape Shifting, on BlogTalkRadio, featuring such guests as Lynne McTaggart, Edgar Mitchell, and Neale Donald Walsch. She has been a program host with The Shift Network for over five years, where she has interviewed luminaries such as Gregg Braden, Anita Moorjani, and Thomas Hübl. She also hosted an online chat show, Mind Yourself, where she interviewed experts in human transformation.
Her current writing project, based on actual events found in her family tree, spurred Lisa into her almost obsessive interest in ancestral healing. While doing genealogy research, she discovered an ancient witch trial and generational curse, which explained an awful lot about unusual patterns and illnesses in her life and those of her family. This writing project, tentatively titled The Maxwell Curse, tells how ancestral legacies can ripple across time for centuries, leaving havoc in their wake. Lisa feels that it's her life's work to heal that curse by working with her ancestors, and sharing with others how they too can break the ties that bind them to their own families' past histories.